Stetson Basketball Teams Raise Money For Pancreatic Cancer Research
Stetson Basketball Teams Raise Money For Pancreatic Cancer Research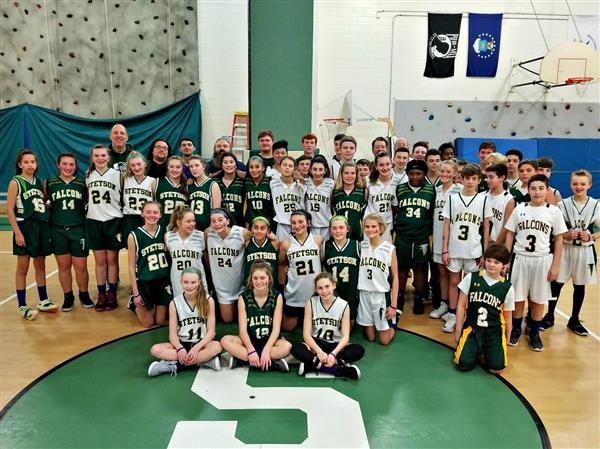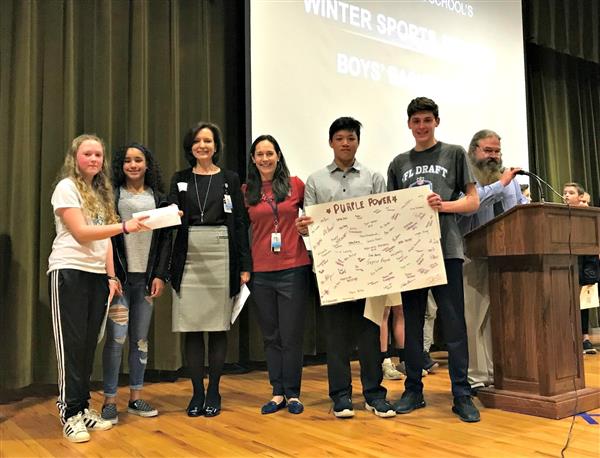 Stetson players and coaches gather for a postgame photo (L-R) Gianna Mayoros; Raelyn Loper; Chester County Hospital Representatives Karen DeStefano and Ashley Kopp; Jaysin Huynh; Ian Schlesinger
Members of Stetson Middle School's boys and girls basketball teams joined forces during the 2018-19 school year to raise money in the fight against pancreatic cancer.
Students sold refreshments, snacks, and purple pancreatic cancer awareness bracelets at various Stetson winter sporting events and raised additional funds during a mixed intrasquad friendly "Purple Game" played in front of students, staff, and parents.
The two teams raised over $1,000 which was presented to the Chester County Hosptial Foundation.
"A big shout out to your school community for your outstanding efforts! We are very appreciative of your support," said Lara J. Connolly, director of development for the Chester County Hospital Foundation.
According to the Hirshberg Foundation for pancreatic cancer research, pancreatic cancer is currently the third leading cause of cancer deaths in the U.S. The disease is often diagnosed in its later stages, lowering survival rates.
---