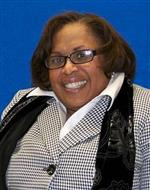 Joyce Chester
jchester@wcasd.netRegion 1, term expires December 2021

Joyce holds a B.A. degree in Organizational Dynamics from Immaculata University and a Masters Certification in Non-Profit Executive Leadership from Bryn Mawr University of Social Work and Social Research. She is also a graduate of Leadership, Inc.

Joyce is President and CEO of Chester County Opportunities Industrialization Center (OIC), Inc., a local non-profit entity that provides adult literacy and employment training to disadvantaged Chester County residents. Her work experience is diverse with 20 years of corporate experience at Colonial Penn Insurance Company and National Liberty Insurance and Marketing Companies, and more than 15 years in non-profit businesses. In addition, she has 10 years of entrepreneurial advertising experience for clients that included National Liberty, MBNA, Cigna, and Chester County Hospital.

Joyce serves as a member of the Chester County Workforce Investment Board, chair of Chester County Adult Workforce Coalition, member of the CareerLink Advisory Board, secretary of the OIC of America Executive Director Association, current Vice-Chair of the Advisory Council for Chester County Department of Aging, member of Decades to Doorways - 10 Year Plan to End Homelessness, member of Phoenixville Social Concerns Committee, member of Diversity in Action Committee, and member of the Ride for Health Initiative. She has also been a proud Rotarian for many years.

A single parent, Joyce's two sons are products of the West Chester Area School District; the oldest is completing a doctorate in Physical Therapy at Widener University, and the youngest attends Kutztown University. Her grandson attends Hillsdale Elementary School.

Joyce Chester was elected to the School Board in November 2017 for a second four-year term. She chairs the Pupil Services Committee and serves on the Education Committee.