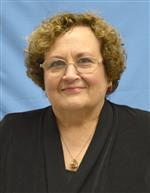 Sue Tiernan - Vice President
stiernan@wcasd.net
Region 1, term expires December 2023

Sue, a life-long resident of West Chester and a graduate of B. Reed Henderson High School, earned a B.A. in English from Miami University (Ohio), an M.A. from West Chester University, and completed graduate work at Penn State, Widener and Immaculata Universities. Now retired from a career in teaching and administration, Sue's volunteer work has reinforced her deep belief that a strong community has at its core a strong public school system.

Sue and her husband, Ed, have two grown daughters whose education in the West Chester Area School District served them well in their career choices, and has two grandchildren attending district schools. She believes it is the duty of our School Board to make decisions within the constraints of economic realities while working to give our students an excellent, well-rounded education.

Elected to the Board in November 2019 for a third four-year term, Sue was elected by her peers to serve as vice-president for 2014, 2015, 2016, 2017, 2018, 2019 and 2020. She chairs the Education Committee, is a member of the Pupil Services Committee, and also serves as the Vice President of the Chester County Intermediate Unit Board of Directors.