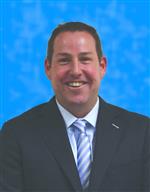 Chris McCune - President
cmccune@wcasd.net
Region 3, term expires December 2017

Chris holds a Bachelor of Science degree in Business Management and Marketing from West Chester University. With a successful 20-year track record in sales and business development within the technology industry, he currently works for Symantec as an Advanced Technology Solutions Specialist focusing in the areas of electronic discovery and disaster recovery. Over his career, Chris has worked with some of the most respected industry leaders such as Xerox, Hewlett Packard, and Ernst & Young. His professional experience includes helping schools leverage technology to reduce costs and enhance educational experiences.

Chris volunteers in a number of capacities throughout the community. He serves on the Planning Commission for Thornbury Township (Chester County), and has been a volunteer coach for a number of youth athletic leagues including West Chester United, Upward Basketball, and the YMCA. Additionally, Chris is the League Director for CYO Football (Archdiocese of Philadelphia).

Chris and his wife, Kathleen, have resided in West Chester since 1996. They have five young children, three of which attend schools in the district. Chris believes that a strong community and strong school district go hand in hand. It is the responsibility of the School Board to make fiscally responsible decisions today that pave the way for a better future. This will ensure property values remain strong and that our students get a superior education.

Chris was elected to serve a four-year term in November 2013. Chris was elected by his peers to serve as Board President for 2017.