A Lesson in Empathy Brings a Visit from Philadelphia Eagles Star
A Lesson in Empathy Brings a Visit from Philadelphia Eagles Star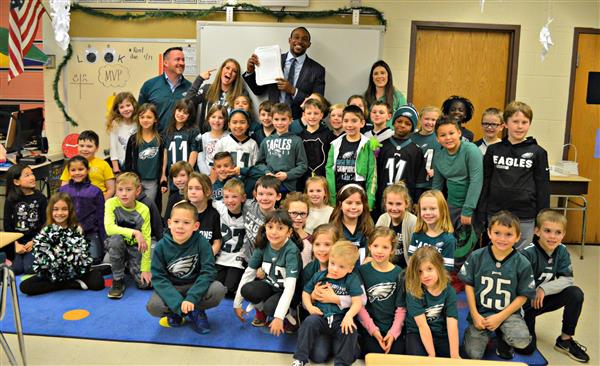 The lesson was simple - teach kindness and empathy; the outcome was unexpected. Allison Morris and Stacy Esworthy, second - grade teachers at Starkweather Elementary School encouraged their students to write letters to Philadelphia Eagles wide receiver Alshon Jeffery to lift his spirits after dropping a critical pass in the playoff game against the New Orleans Saints on January 13. They never expected that the lesson would go viral or that it would reach Jeffery.
Enter the power of social media. The Eagles' star wide receiver caught wind of the students' letters after Raymond Johnson, father of Abigail Johnson, posted his daughter's letter on Twitter. Jeffery was so moved by the actions of the students, that he planned a surprise visit to the school to thank them in-person.
On the day of the visit, Morris and Esworthy told their students that they were going to have a special face-time session with Jeffery. The students, decked out in their Eagles apparel, sat patiently waiting to connect with the star player. Principal John Meanix continued the rouse and told students that there was a problem with the internet connection. He left the classroom to "fix" the problem. When he returned, he told the students, to their disappointment, that they wouldn't be able to face-time with Jeffery and asked if they minded talking to him face to face. The students broke out in cheers when Jeffery entered the room.
Jeffery spent nearly an hour visiting with the students, answering questions, and signing autographs before he made his way out of the school. Students and staff lined the hallways and sang the Eagles fight song as Jeffery left the building. The day served as a reminder of how powerful the innocence of a child can be while creating memories for both the young students of Starkweather and Alshon Jeffery.
---