Senator Tom Killion Visits Starkweather Elementary School and Discusses Anti-Bullying Efforts
Senator Tom Killion Visits Starkweather Elementary School and Discusses Anti-Bullying Efforts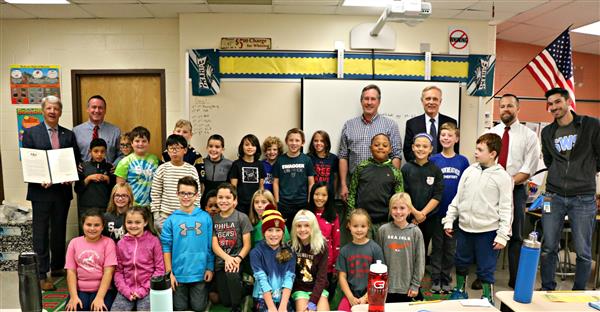 Senator Tom Killion (R – Chester and Delaware) paid a visit to Sarah Starkweather Elementary School on November 1 to observe the school's Positive Behavior Intervention and Support (PBIS) program in action. Killion also introduced a resolution he sponsored designating the month of October as "Bullying Awareness Month" in Pennsylvania.
Killion was invited to attend Morning Meeting in Mr. Ambrosino's 4th-grade class. During Morning Meeting, students spend time getting to know each other through various activities and a sharing circle. During Killion's visit, students paired up to create a special handshake and then said what they were thankful for, and discussed their weekend plans.
Following Morning Meeting, Killion read to the students a resolution that he sponsored designating the month of October as "Bullying Awareness Month" in Pennsylvania.
"When you get to know each other and learn all about each other, then you also learn something else - you learn not to bully each other," Senator Killion told the students before reading the resolution to them.
Senator Killion's message tied in perfectly with the class's Morning Meeting and PBIS.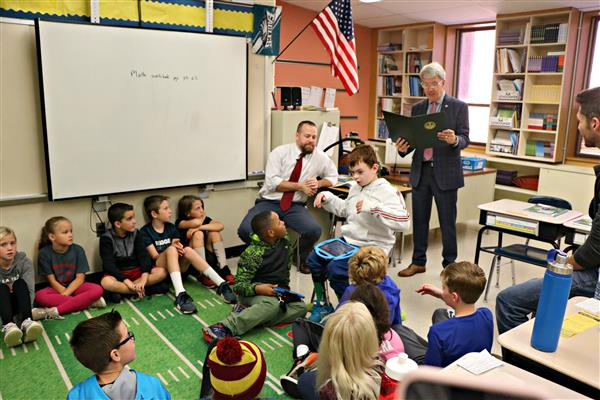 "Morning Meeting brings kids closer to each other. When kids know each other better and have a safe mode of sharing and learning together, we see a decrease in bullying and an increase in relationships between different kids that we haven't seen in the past," said John Meanix, Starkweather's principal.
PBIS encourages good student behavior, and it taught just like other subjects like reading or math.
"The behavior of our students has always been pretty good, but we saw a need for consistency. The way one teacher would allow students to act in his or her classroom was likely different from the way another teacher would allow his or her students to behave," said Meanix.
At the beginning of each school year, school-wide expectations are set, and positive behavior is acknowledged in the form of "Wolf Bucks" (the school's mascot is a wolf.) Once a grade level or the entire school reaches set benchmarks, they can earn things like extra recess or a dance party.
According to Meanix, the results of the program, now in its second year, have exceeded staff expectations.
---