Stetson & Henderson Presented with Sportsmanship Awards
Stetson & Henderson Presented with Sportsmanship Awards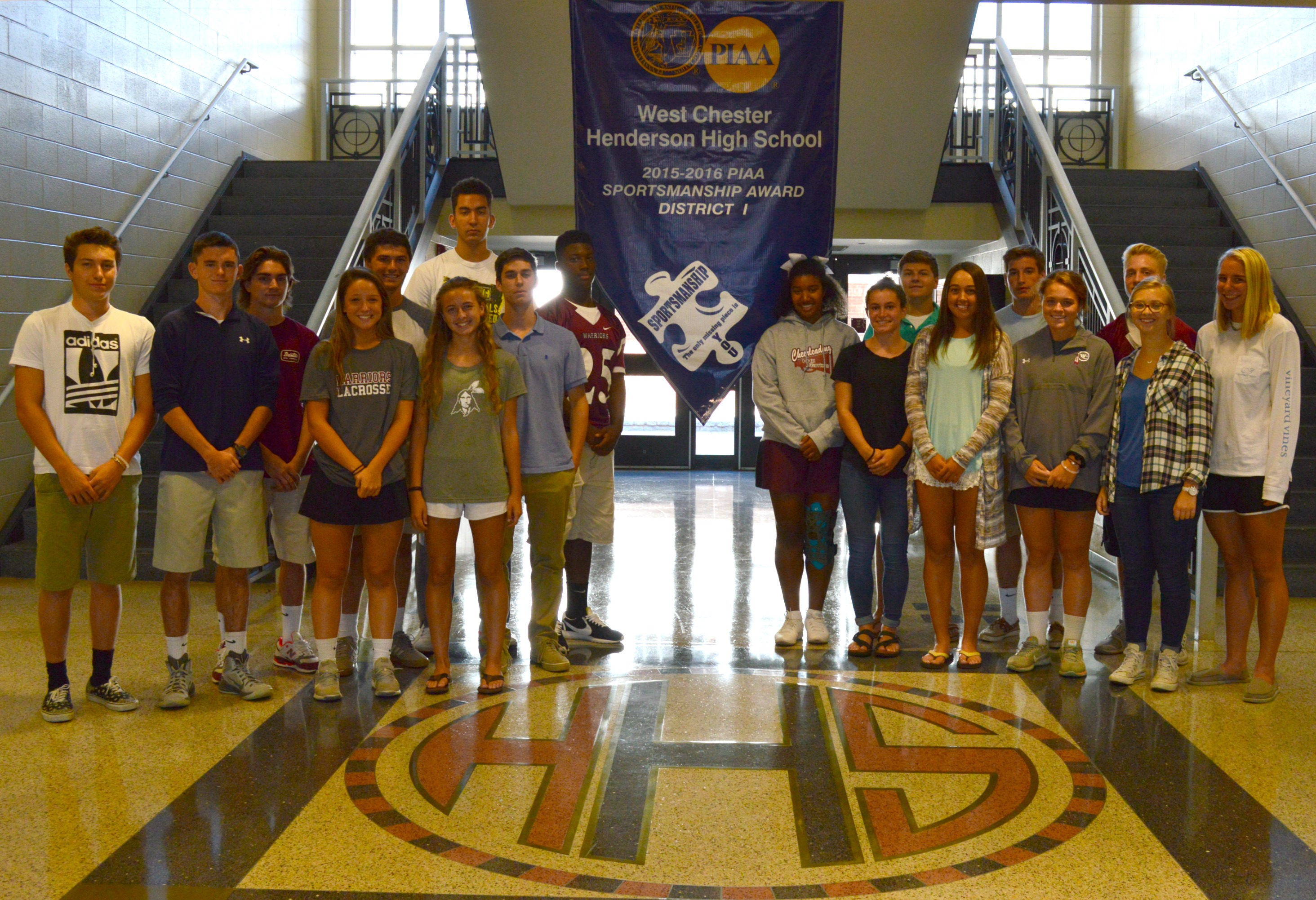 Henderson High School student athletes proudly stand in front of the banner recognizing the school as the recipient of the 2015-16 Pennsylvania Interscholastic Athletic Association Sportsmanship Award.
Henderson High School and Stetson Middle School have been named the recipients of the 2015-16 Pennsylvania Interscholastic Athletic Association (PIAA) Sportsmanship Award by members of the Ches-Mont League.
This marks the seventh time in the past eight years that Henderson has received this award. Stetson Middle School was also presented with the award six years ago.
The Ches-Mont League was created in 1950 and consists of fourteen high schools and fifteen middle schools in Chester and Delaware Counties. High schools students compete in varsity sports in the PIAA's District One at the AAAA, AAA, and AA levels.
All head coaches in the league are given one vote at the conclusion of their season, and use the following criteria when evaluating member schools for the award:
• Spirit: Degree and quality of genuine spirit shown by opposing team personnel and spectators

• Attitude: Maintained proper attitude and self-control before, during, and after the contest

• Arrival: Manner of welcome; professional and informative

• Conduct: Conduct of opposing players and coaches before, during, and after the contest

• Facility: Care given to the facility and equipment by visiting team before, during, and after the contest

• Accommodations: Home team provides an appropriate and clean facility before, during, and after the contest
"Credit for Stetson's Sportsmanship Award goes to our Athletic Director, Mr. Corcoran, who sets an excellent example for our talented coaches and students of how competitive play, coupled with sportsmanship, earns the respect of other schools," said Chas Cognato, principal of Stetson Middle School.
"I am very proud of this honor, which was earned by all of Henderson High School's coaches, student athletes, maintenance personnel, and parents of students who conduct themselves in the finest manner, always appropriately, and who help maintain our first class facility for all Ches-Mont League members to enjoy," said Ken McCormick, Henderson High School's Athletic Director. "Receiving this award is all the more prestigious because the winner is chosen by our competitors. These are individuals whom we compete against on athletic fields, courts, tracks, and in pools. All coaches in the league have done a great job and have my sincere thanks and congratulations on a successful year in sports."
The PIAA's Executive Director, Robert Lombardi, presented representatives from both schools with each award on September 14.
For more information, please contact Ms. Tracey Dukert, Digital Communications Coordinator, West Chester Area School District at 484-266-1170 or tdukert@wcasd.net.
---