Stetson Student Wins Holocaust Arts Competition
Stetson Student Wins Holocaust Arts Competition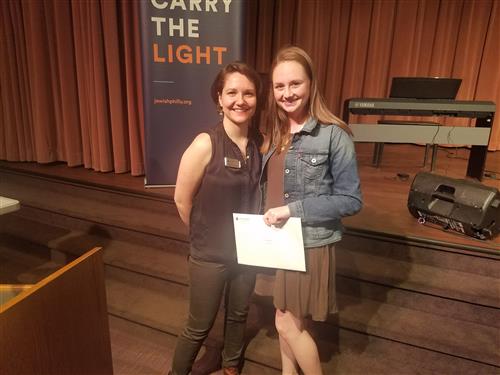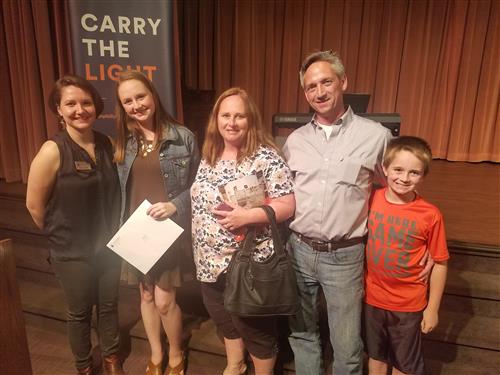 Sarah Jewett, Jewish Federation of Greater Philadelphia (left) Sarah Jewett (left), Grace McCabe and family

Grace McCabe, Peter Stolzer
Eagerness and persistence paid off for Stetson Middle School student Grace McCabe. McCabe, who will enter 9th grade at Rustin High School this year, recently won first place in her age group in the Mordechai Anielewicz Creative Arts Competition, sponsored by the Jewish Federation of Greater Philadelphia's Jewish Community Relations Council.
The competition is an annual event designed to encourage all Philadelphia-area middle school and high school students to learn about and reflect upon the history of the Holocaust. According to the Jewish Federation of Greater Philadelphia, students are invited to submit Holocaust themes and lessons through essays, poems, short works of fiction, two-and three-dimensional as well as multimedia works of art, original songs, musical compositions, and dance. The contest is named in memory of the young leader of the Jewish revolt against the Nazis in the Warsaw Ghetto.
McCabe's story entitled, "Lebensborn Redemption" fell under the theme of Experiences of Children and won first place in the 7th/8th-grade prose writing category. In 1935, faced with a declining birthrate in Germany, Heinrich Himmler, a leading member of the Nazi party, created the Lebensborn program to further the Aryan race by whatever means possible. Young children with Aryan features were kidnapped from families living in German-occupied areas. After they were "Germanized," the children were placed with pre-approved German couples who would raise them as their own. The program also provided the opportunity for German women deemed "racially pure" to meet and have children with SS officers to create a "super-race."
McCabe entered the competition after hearing about it in her 8th grade accelerated English class.
"When brainstorming topics, I decided to think outside the box, said McCabe. "I wanted to shed light on an aspect of the Holocaust that people might not have known about, so I wrote about the Lebensborn program. I read about the program in a book called "Someone Named Eva." I was fascinated by the story, and thought it would make a good topic for the essay contest. I worked really hard on the essay with my teacher, Mr. Stolzer, and I was very proud to accept the award at the Moore College of Art and Design in Philadelphia. I especially felt honored because there were Holocaust survivors in attendance who were very emotional in recalling details of the ordeal most of us could never imagine."
"I feel it is so important to know about the Holocaust because we need to make sure it never happens again," added McCabe. "Innocent people were treated horribly just because of who they were. We all need to celebrate our differences and accept others for who they are."
McCabe received a $100 gift card to Barnes and Noble and a certificate that was handed out at an awards ceremony at the Moore College of Art and Design on June 5th honoring all of the contest winners.
"I was ecstatic about Grace's award, but I would have been proud of her effort had she finished in 100th place," said 8th grade Stetson English teacher Peter Stolzer. "She earnestly and persistently labored through hours of drafts and revisions, conducting painstaking research along the way, to craft a short story true to history and worthy of the topic."
McCabe has enjoyed writing since she was a little girl and plans to continue to develop her writing skills on a personal and academic scale. She intends on entering the Mordechai Anielewicz Creative Arts Competition again next year.
For more information, please contact Ms. Jennifer Neill, Digital Communications Coordinator at 484-266-1171 or jneill@wcasd.net.
---