Stetson MS Student Stars in People's Light Production of Lights Out
Stetson MS Student Stars in People's Light Production of Lights Out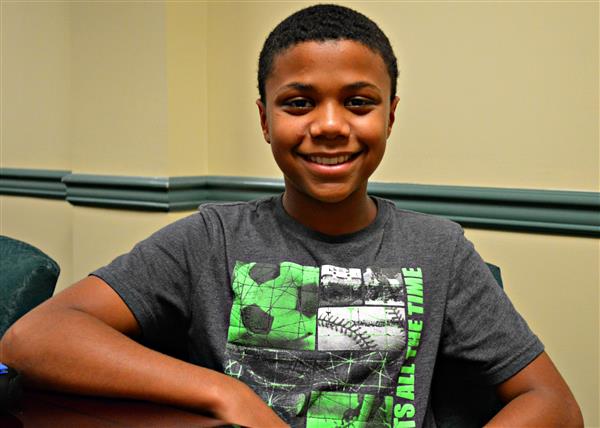 Dayshawn Jacobs
It can take years of soul searching before one discovers what they want to be when they grow up, but Stetson Middle School student, Dayshawn Jacobs already knows. He has his sights set on Broadway, and he is on his way. The 8th grader is currently starring in People's Light production of Lights Out: Nat "King" Cole.
Jacobs, who plays a young Nat King Cole and Billy Preston in the production, got wind of the part last summer when he participated in Summer Stage. He said the audition process was "nerve-wracking" but he is happy he got the part.
"It's really exciting to be part of the production and work with big-time actors," said Jacobs. The production also features Dulé Hill as Cole and Daniel J. Watts as Sammy Davis Jr.
Jacobs has been singing for a while and made his theatrical debut last year in Stetson Middle School's production of Aladdin.
Jacobs said he would sing around his home for fun and his mother would record him and post his performances to Facebook. After receiving a lot of encouragement from friends and family, Jacobs's mother signed him up for weekly voice lessons.
Always on the go, Jacobs devotes his time to his education and his passion for performing. In his spare time, he likes to play basketball, football, lacrosse, wrestling, and run track.
According to peopleslight.org, Lights Out: Nat "King" Cole tells the story of what Cole faced "after his groundbreaking NBC variety show failed to attract a national sponsor, and he famously declared that "Madison Avenue is afraid of the dark." In this theatrical exploration into the soul of an American icon, Colman Domingo and Patricia McGregor imagine Nat as he faces his final Christmastime broadcast, and weighs the advice of his friend Sammy Davis Jr. to "go out with a bang." This world premiere, replete with hits and holiday standards like "Nature Boy," "It's A Good Day," "Unforgettable," and "Joy to the World," also features appearances by Eartha Kitt and Peggy Lee."
Lights Out: Nat "King" Cole runs until December 3rd. For more information and tickets, log on to www.peopleslight.org.
---