Peirce - Stetson Annual Pink Game Benefits Unite for HER
Peirce - Stetson Annual Pink Game Benefits Unite for HER
Fundraising efforts for Unite for HER remain strong at Peirce and Stetson Middle Schools. This past November marked the 7th annual Pink Game which is the culmination of a two-week-long fundraising campaign for the organization. Students at both middle schools raised over $14,000 through pink t-shirt sales, restaurant dine-in donations, and raffles. The fundraising efforts led to a friendly game of football between the two schools complete with players, coaches, and spectators awash in pink. All proceeds were donated to Unite for HER.
This year's game carried special meaning for the Peirce community as one of their own battles breast cancer. Guidance counselor Carol DeMarco was on-hand for the coin toss at the beginning of the game. Mrs. DeMarco was diagnosed with breast cancer shortly after the start of the school year.
The Chester County-based Unite for HER helps fund and deliver complementary therapies that support the physical and emotional needs of those with breast cancer during their treatments and beyond.
"Stetson Middle School and Peirce Middle School are two of 64 schools that raise money for our organization," said Unite for HER Special Events Manager Cameron Cotrufello. "We're honored to be an annual part of their school events and look forward to the spirited rivalry at the football game each year."
Since its inception, Unite for HER has grown from helping 24 women through one hospital affiliation to helping nearly 1,200 women and partnering with a total of 36 cancer centers and hospitals.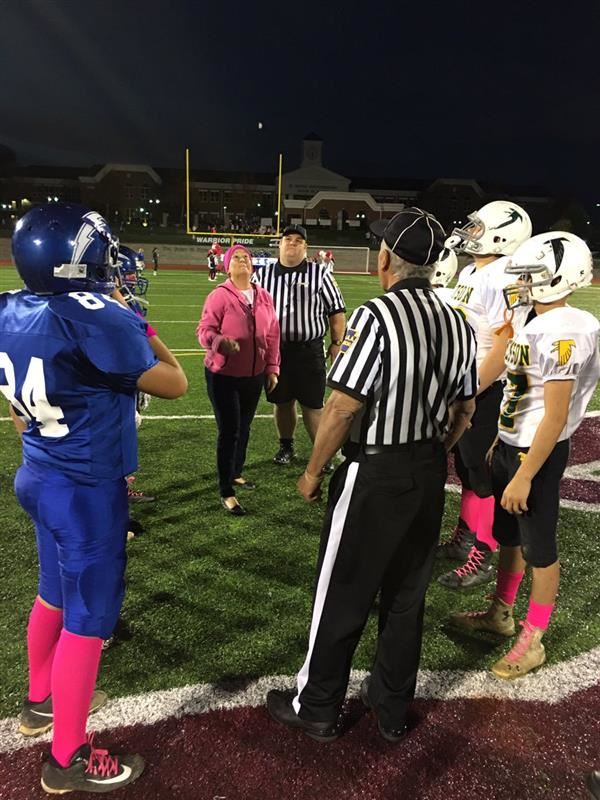 ---