Stetson MS 7th-Graders Create Winning Wind Turbine
Stetson MS 7th-Graders Create Winning Wind Turbine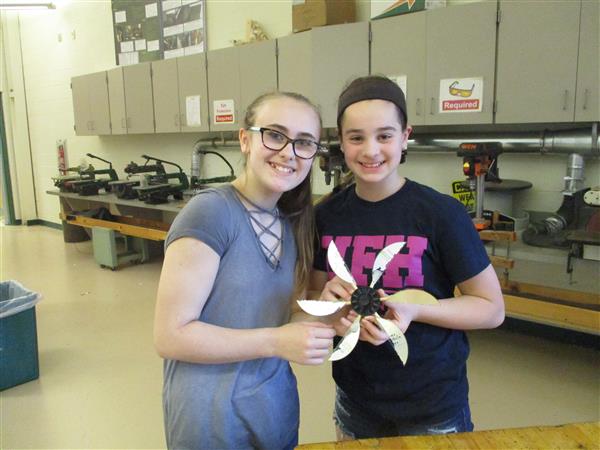 Emma Dredge and Kyleigh Blohm display the rotor blades of their winning wind turbine
Congratulations to Stetson Middle School 7th-graders Kyleigh Blohm and Emma Dredge on winning April's Kidwind challenge. The monthly national contest challenges students to build a device that converts moving wind into electricity. To be successful with their design, students must utilize the engineering design process. The process is a series of steps that engineers follow to come up with a solution to a problem. It involves testing, modifying and redesigning.
Blohm and Dredge's technology education class was learning about alternative energy and sustainable design, so they used compact discs as rotor blades. Their wind turbine had a 20 percent efficiency rating.
The KidWind Challenge is designed to get students excited about the promise and opportunities of renewable energy (specifically wind power) and its relationship to global climate change.
---