Stetson Middle School Embarks on a Kindness Journey
Stetson Middle School Embarks on a Kindness Journey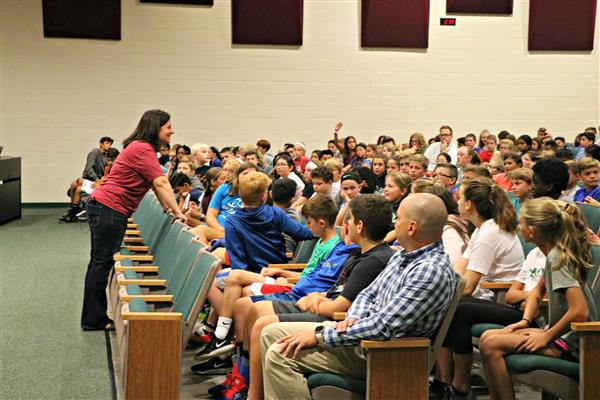 Author Lisa Barrickman talks to students about acts of kindness
September 2, 2019
Students at Stetson Middle School are embarking on a kindness journey. For the next 40 days, students and staff members have been challenged to carry out acts of kindness throughout their day.
When students head back to school on Tuesday after the Labor Day holiday, they will find a Kindness Calendar hanging in each classroom. The calendar will be filled with weekly themes and daily kindness challenges. Some of the ideas include - leave a note of encouragement in the locker of someone who is struggling; ask a senior citizen to tell you their life story; tell a parent or sibling why they matter to you.
School administration decided to launch "40 Days of Kindness" after staff members read the book "The Case of Kindness - 40 Ways to Love and Inspire Others" by West Chester licensed professional counselor, certified secondary school counselor, and author Lisa Barrickman.
"Heather Selgrath, one of our guidance counselors introduced us to the book," says Dr. Charles Cognato, principal of Stetson.
"This initiative is an extension of our Upstander Program. There is a lot of conflict in the world, and we want to ensure our Stetson family is filled with kindness."
To kick off the kindness challenge, Dr. Cognato invited Barrickman to come to the school on August 29 and speak to all 870 students.
"When you think about kindness, think about the ABC's," encouraged Barrickman.
"'A' stands for all. Kindness is for all. 'B' stands for big. Even a small act of kindness makes a big difference. The 'C' is for choice and contagious. Kindness is a choice. It is something that we intentionally do. Once we do it, it spreads like mad. Kindness is contagious."
During the assembly, Barrickman asked students how they could be kind. Students responded with helping someone find their classroom and open their locker, and reaching out to new students to make them feel more comfortable.
Throughout the 40 days, students will write down acts of kindness that they received or performed for each week on post-it notes. The notes will be displayed in the hallways of each wing of the school.
Barrickman says the 40-day initiative is just the beginning of the kindness journey for most students.
"I've been to some schools at the end of their kindness initiative, and some of them have expressed sadness that it was ending. I tell them, it's not over, this is now the beginning. I think if kids do something kind every day and really try to build that habit, I do feel like it can have a lasting impact. Kindness initiatives are really almost a kindness training, where they are building up their 'kindness muscle.' It changes the way that they view things."
---