Return to Headlines
Keytone Volvo Cars of Berwyn Helps Keep Students Warm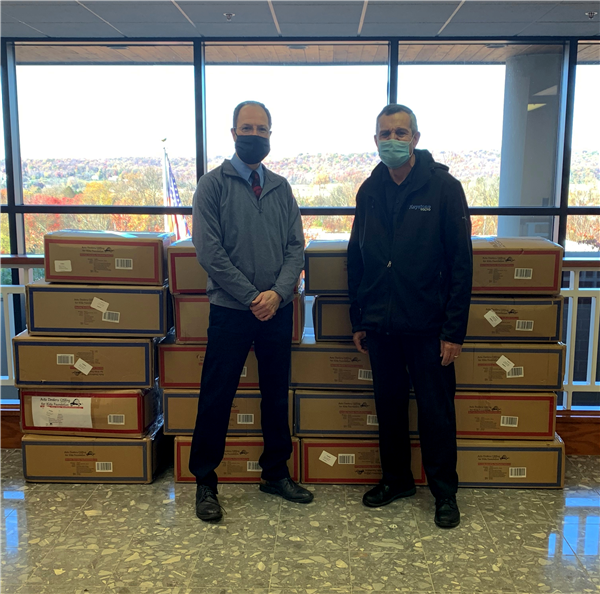 Greg Tokar (left) and Steve Owens from Keystone Volvo Cars of Berwyn deliver boxes of coats for economically disadvantaged students in the WCASD
Economically disadvantaged students in the West Chester Area School District have a nice, new, warm coat to get them through the winter season, thanks to Keystone Volvo Cars of Berwyn. Employees from the dealership recently dropped off 120 coats, which were distributed to students in need across the district's ten elementary schools.
According to Patricia Alston, Social Worker Coordinator at the West Chester Area School District, out of the 11,967 students in the district, almost 16 percent are considered economically disadvantaged.
"We are so grateful for our partnership with Keystone Volvo Cars of Berwyn as so many are struggling with the effects of the pandemic. Being able to offer students a warm coat relieves some of the stress families have related to school attendance and allows them to focus on other areas. The Driving Away the Cold campaign helps us provide some basic need items to our students so they can come to school prepared and ready to learn," said Patricia Alston.
The Driving Away the Cold campaign is coordinated by the Auto Dealers CARing for Kids Foundation. One hundred seventy-one auto dealerships throughout the Greater Philadelphia region participate in the annual donation drive, which is now in its 12th year. The dealerships conduct a pledge program to help raise funds to purchase brand-new winter coats. The Auto Dealers Association of Greater Philadelphia also plays a part by donating a portion from every Philadelphia Auto Show ticket sold to its Auto Dealers Caring for Kids Foundation to support the effort. Since the program's inception, 473,000 coats have been provided to children in need.